Demob Happy Tickets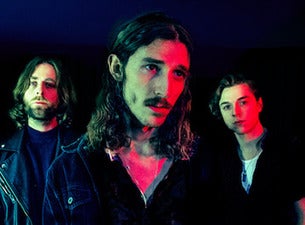 Have you ever turned on the radio in the last twelve months and thought there really should be something more? Don't worry. You're in good company.

"It's your Sam Smiths and your Ed Sheerans, where people desire really inoffensive musicians and role models nowadays because everyone is worried to comment on anything and to actually have an opinion. Everyone is so scared of offending anyone," rants Demob Happy frontman Matthew Marcantonio. But, though it's the 'age of beige' that the Brighton-by-way-of-Newcastle quartet are aiming their barbed bullets at with the sleazed-up rock'n'roll onslaught of debut EP 'Young & Numb', really, Demob have been resolutely kicking against the opposition since the beginning.

Formed properly in 2008, after college friends Marcantonio (lead vocals, bass), Mathew 'Rennie' Renforth (guitar, backing vocals) and Adam 'Barry' Godfrey (guitar, backing vocals) stole drummer Thomas Armstrong from his previous role as a "15-year-old screamo prodigy", Demob Happy's formative years were a lesson in tenacity and bullish self-belief. "We all had long hair and wore band T-shirts, and you walk off the train and instantly someone calls you a poof and tells you to cut your hair. In Newcastle, there's still something to rebel against," Marcantonio begins. "The music scene is quite repressed and we were real underdogs in that sense. Someone once called me 'Russell Brand's ugly brother', which was pretty endearing. It gives you that sense of ambition; we brought that out of Newcastle and took it to Brighton."

Before they could up-sticks to the more liberal bosom of the coastal town, however, there were still obstacles to overcome. Though the sum of their collective musical influences soon began to distil down into the heavy yet hook-laden niche the band have now honed (Marcantonio: "I come from a more 60s/ 70s thing from my Dad – The Beatles, Supertramp, 10cc, The Kinks - and then on my own found out about Queens of the Stone Age, The White Stripes and early Kings of Leon. Adam is almost the same. Rennie was into a lot of Radiohead and gets a lot of influence listening to Hip-Hop, and Tom came from Nirvana and a lot of early 90s, heavier, screamo emo music. In the middle, you can see how Demob works where one half of us is melodic rock and the other is heavier"), actually having the means to play their new wares soon proved more difficult.

After having their shared house robbed by a thieving neighbour, a battle of wills between the separating wall ensued – regular 4am booming jam sessions from the Demob side; slightly less intelligent eggings from their opposition – until the noise police were called and confiscated all of the burgeoning band's equipment. "They confiscated anything in the house with a musical output – everything from our amps to guitars, to DVD players to an alarm clock. In one fell swoop we had this band and everything was gone," explains the frontman. "It put a hiatus on us for a few months but thankfully once we got out we got it all back on a technicality."

Decamping to Brighton at the beginning of 2011 to begin phase two of their plan (get a student loan; spend it all on the band), it wasn't until the quartet hooked up with newly established promoters Late Night Lingerie – now a firm lynchpin of Brighton's thriving music scene – that things began to click into place. "At the start we put on our own gigs and the only people we could ever get to support us were ska bands and acoustic bands because we didn't know anyone else," Marcantonio explains. "Then we ended up meeting Eddie [Goatman, Late Night Lingerie founder] and realised there was this whole new thing going on. That helped cement what we were about, because you play at 4am, everyone's really pissed and it's more fun and carefree. It's the best thing going on in Brighton."

By this point, the band had already started clocking up an arsenal of wired, whisky-sodden rock'n'roll in early tracks 'Rattlesnake' and 'Wash It Down' and set about finding ever-more exciting ways to play them while keeping just on the right side of the law. Having firmly established themselves among the local scene as incendiary LNL favourites but still denied by the town's annual industry buzz fest The Great Escape, the band drove their van – dubbed The Demobile – into the centre of the festivities in 2013 and played a now infamous gig from the back of it that launched them straight into the NME's picks of the festival without even being on the bill. "We wanted to cause a bit of a stir and get up in peoples' grills but on our own terms. There was a massive crowd formed within about 20 seconds," recalls the singer. "While we were playing, my brother was pleading with the police to not turn the generator off. As we drove off, we were just chucking business cards out the window 'cos no one knew what we were called."

The following year at the festival, meanwhile, the band hosted an unofficial party in the basement of their newly established HQ-cum-coffee shop Nowhere Man, playing alongside tour buddies Superfood, that saw a capacity crowd literally climbing the sweaty ceilings and also landed them in the top picks of the national press, while a near-miss gig at a house party in the interim months saw them just dodge a £40,000 bill for caving in the ceiling. Marcantonio: "It was absolutely rammed. We started playing 'Rattlesnake' and when everyone started jumping around it was like standing next to a trampoline. We realised what was about to happen so it was like, 'EVERYBODY STOP!'. There was about a foot of give. It was touch and go, but in the end the building was condemned anyway so it was a bigger problem..."

During this time, the band had begun to whittle the Vines-esque punch of their earlier tracks into a dirtier grind informed by the sweaty hedonism of their live shows, and with the 'Young & Numb EP' – released on 18th April 2015 - the quartet have brewed up a filthy four-track that pits them as the sarcastic British cousins of Queens of the Stone Age's school of sleaze.

Recorded in Summer 2014 in an isolated, homebuilt recording studio in Carmarthenshire, Wales and co-produced with longtime friend of the band Christophe Skirl, it's a cohesive sucker punch designed to distil the excitement of Demob Happy live onto tape. "There's this golden point between writing a song and recording it where it works and you're really excited, but normally by the time you've rehearsed it and you get to the studio it's worn off. So we wanted to go somewhere where we could write the songs, rehearse them and record them at the same time; where there were no distractions," the singer explains of the recording process. "We ended up begging, borrowing and stealing all our recording gear to make this little mobile recording studio, so we could achieve that."

Lead single 'Succubus', dubbed "a joyride through rock's sleazier back alleys" as The Guardian's Track of the Week and a "dark and dirty spell" by NME, has already burst through as their opening salvo. Elsewhere, the prickling guitars and provocatively cooing vocals of the title track, 'Fizz's discontented, wired rattle and the predatory, purring rumble of closer 'Milk Parlour' – a lesson in the powers of quiet-loud-quiet – complete the package. Lyrically, meanwhile, 'Young & Numb' is less the nihilistic stoner manifesto that its title could allude to and more an attack on that exact same apathy. "'Succubus' and 'Young & Numb' are about me being pissed off with everyone else, and the other two are me being angry with myself... there's quite a lot of anger in there," Marcantonio deadpans. "It's my frustration about the fact that no one is willing to step out of line at a time when we think our freedoms are greater than ever before, when actually our personal freedoms of expression aren't. It's about how no one wants to have an opinion anymore".

Socially charged yet seductively sleazy in one fell swoop, Demob Happy are the fizzing, exciting antidote to every Sheeran, Smith or Sande that's content to keep it safe. Noise wars, gatecrashed parties and condemned buildings... here – finally – are a band that aren't interested in playing nice.

'Young & Numb' is released April 18th via Milk Parlour Records / So Records.
Sorry, there are no shows listed for Demob Happy just now.
Browse by Category