Yorkshire Scare Grounds 2016 Tickets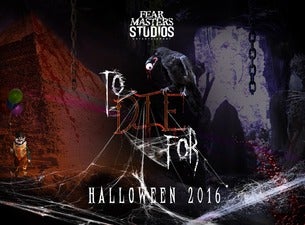 House of Arachnia!

Darkwood: a forgotten woodland retreat – has had its fair share of misfortune over the years!

From murders to escaped convicts & evil spirits of the dead!

But now a new breed of terror has evolved, crawling from the rotten woodwork, a venomous mutation has taken hold, devouring anyone who dares to enter!

This Halloween are YOU brave enough to enter The House of Arachnia! Mutation?



Forest of Freaks.

Marked by the blow that killed him, with his trademark make up burnt to his face, Jack is back!

This Halloween Jack has a new playground! Deep in the forest, where there's nowhere to hide, and no one can hear your blood curdling screams – Jack and his horde of killer clowns and blood thirsty freaks wait eagerly in the shadows, hungry for flesh, the smell of your blood will send them in to a feeding frenzy!

This Halloween are YOU ready to face Killer Clowns in the Forest of Freaks?



The Chapter – Order of the Raven

Enter the dark & sinister world of The Chapter, where visions of Worship – Sacrifice & Torture will haunt your dreams for ever.

Ingvar the Master of the Order is a force to be reckoned with! His supreme power will ensue your sanity and rip your soul from your lifeless body!

And beware, as the stench of death fills the fulsome air, the Evil Plague Doctors are eagerly waiting in the shadows of the plaque ridden village!

This Halloween are YOU ready to face Ingvar the Master of the Order?



Lockdown – They're out!

If you're reading this then there isn't much time... We thought we had the virus contained... We were wrong. The zombies...they're everywhere! The prison is on lockdown! But… they're out! Please...we can't hold them back for long... This Halloween will YOU survive the Zombie horde?



The Tomb - Afterlife!

This Halloween an ancient evil has been awakened! The sandstorm has cleared and something eerie can be felt as you enter the dimly lit passageways of The Tomb! Untouched for thousands of years, and not knowing what's inside – your intrepid explorer Percy Newberry will welcome you, as you nervously venture deep into the unknown. A Tomb full of treasure and curses to protect!

This Halloween will YOU scream for Mummy!



Cleopatra's Pillow

Come and try out our fantastic Giant Jumping Pillow – everyone will love it! Great fun for all (even adults) who'll bounce away all day long if you let them! They're suitable for all ages, so it's fantastic fun for all the family to enjoy and a great way to use up all that boundless energy. The pillows are specially designed and constructed with safety in mind being low level with no sharp edges or steep sides to fall off.

The sky's the limit as they bounce away without a care in the world!

PLEASE NOTE: This attraction will not open in wet weather conditions.
Sorry, there are no shows listed for Yorkshire Scare Grounds 2016 just now.
Browse by Category