Theatre Of Hate Tickets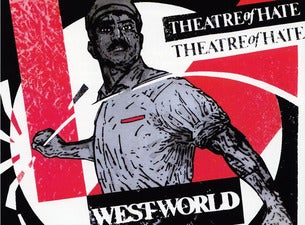 In 1980, Kirk Brandon formed Theatre Of Hate from the ashes of heralded punk band The Pack. Joining Kirk on vocals were notable punk musicians Stan Stammers and Luke Rendall, along with old school friend, Steve Guthrie and Canadian born John "Boy" Lennard, who revolutionised the band's sound with his haunting sax lines.

Theatre Of Hate's debut double-A-side single, "Legon"/"Original Sin", topped the independent chart in 1980, and "Westworld", their debut album, produced by Mick Jones from The Clash and released in 1982, held the number one position for 21 weeks. The single taken from the album, "Do You Believe In The Westworld?" has become an anthem and is still widely played in clubs and on international radio, as well as featuring on numerous compilation albums.

Supporting the likes of The Clash & Ian Dury lead to Theatre Of Hate headlining major venues across the UK & Northern Europe.

Theatre Of Hate imploded in 1982, with Kirk taking Stan forward to form Spear Of Destiny, but the band has resurfaced over the years to play some very special shows.

Having been asked by John Curd to join The Damned for a massive show at London's infamous Roundhouse in December 2013 the band once again joined the fray. A short set of dates around the London anchor show attracted rave reviews, as did a 6 night night SOLD OUT run in December 2014. (see reviews below) 2015 will see the band play two short jaunts across the UK in April and December.

12 new songs are currently being written and will recorded, the first of which the SLAVE EP went out to rave reviews in a limited edion CD plus T-Shirt bundle which is now sold out. A new single is expected to be released in November 2015. With a brand studio album to follow in 2016.

Kirk, Stan and John will be joined by current Spear Of Destiny band member Adrian Portas (New Model Army) and Danny Farrent (Buzzcocks) to pay homage to the iconic TOH sound.
Sorry, there are no shows listed for Theatre Of Hate just now.
Browse by Category