Alborosie Tickets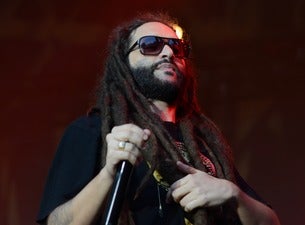 Born and raised in Marsala, Sicily Italy, but now residing in Kingston, Jamaica he is a multi-instrumentalist, being proficient in guitar, bass, drums and keyboard. His musical career began in the Italian reggae band Reggae National Tickets, from Bergamo city, when he was 15 years old in 1993, in which he was known as Stena. In 2001 Alborosie decided to try a solo career. He moved to Jamaica to be close to reggae music's roots and Rastafari culture.There, he started working as a sound engineer and producer. He has also worked with artists like Gentleman and Ky-many Marley. His first solo album was called Soul Pirate. In the summer of 2009 he released his second album which was called "Escape from Babylon".

The name 'Alborosie' comes from a name he was given in his early years in Jamaica. "Borosie was what they used to call me. Let me put it like this. My early experience in Jamaica was… not nice. Borosie was a name they used to call me and it have a negative meaning. So I said "I'm gonna use this name and mash up the place turn a negative into a positive thing!". Basically my name is Albert so I add "Al" – Al-borosie. Alborosie's hits include "Rastafari Anthem", "Kingston Town", and "Call Up Jah". Alborosie recently started his own record label, Forward Recordings. He has given concerts all round the world, including most of Europe and Jamaica.

In 2011, he became the first white artist to win the M.O.B.O. (Music of Black Origin) Awards in the Best Reggae Act category. In 2014, Greensleeves Records released Specialist Presents Alborosie & Friends, a collection of collaborations with other artists. The album entered the Billboard Top Reggae Albums chart at number 7. He collaborated with King Jammy on a dub album, Reality of Dub, which is set for release in early 2015.

Reggae's now gone beyond race and nationality, just like Rastafari. It's Jamaica's gift to the world and Planet Earth loves it – not just for those irrepressible rhythms, but what the music stands for. It's therefore no surprise to learn that fifty years after its birth, reggae's current elite includes a singer from Sicily – one turned Jamaican national, and whose artistry has continued to grow and develop with every release.

His latest album Sound The System is a real landmark. In addition to his talents as a singer and deejay, Alborosie writes the majority of his own material and plays virtually everything we hear on his records. He's the modern-day Renaissance man – a global citizen who demonstrates mastery of traditional reggae whilst pointing the way forward for himself and the genre. Evoking classics of old, his music doesn't just sound great; it has meaning. Alborosie may not be Jamaican by birth, yet he promotes reggae music in its truest sense. With dreadlocks almost touching the floor, he's a proud Rastafarian armed with rebel philosophy, yet there's a celebratory air to his music that's impossible to resist at times.
1 Event for Alborosie
1 Event
Events in

United Kingdom

(1)